Project Help
Maybe I can help you realize your next project,
be it in the garden or house, most small to medium size jobs taken on.
New doorways put in old ones bricked up,
clearing land, tree removal, fencing renewed, the list is endless,
Why use me.
Here are three good reasons.
100% customer satisfaction on my work.
Reliable, trustworthy and always on time .
Very competitive pricing without cutting standards.
Garden makeover
Small courtyard overgrown, two old trees cut out (including roots)
Indian bean (tree) pollarded, old concrete patio taken away and new patio slabs laid.
Small frame made for clients favorite rose which I worked around and kept.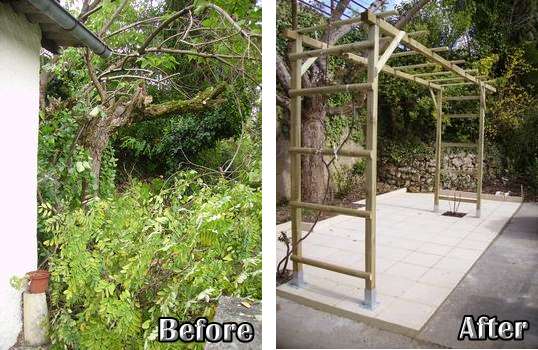 Same garden from opposite view
I added another rose to balance up the frame.
Visit the Picture Gallery to see more of our work


Pool Areas Re-shaped
I don't construct pools but are quite happy to tidy up the ground area after the pool company have finished working,
But prepare for a messy garden, most pool companys don't finish any ground work and its left like a building site.
So don't forget to Budget for Landscaping.
I do offer a cheaper option which is land shaping, leveling and seeding this is by far the preferred way here in France, which is less fussy then the full landscaping route keeping costs down, but if you wish for a perfect pool and lawn I can create your dreams for you.
Pool Areas
Most pool company's are quite careful but its always going to leave a mess
when you have such a big project in your garden
(workman just finishing up, its a lot worst close up)
After a lot of time and work raking and seeding,
The pool area looks nice with the added fence,
Visit the Picture Gallery to see more of this project.